Artify: how FiO's blockchain technology will enable the NFT market
---
Introduction
Non-fungible tokens (NFTs) have become mainstream–and they are here to stay–but it wasn't always like this. Mainstream recognition of NFTs has been a long time coming.
The earliest NFT may have been the "colored bitcoin" that was created in 2012. "Colored bitcoins" were small denominations of a bitcoin that represented assets with various use cases, such as property, coupons, and digital collectibles. Sound familiar?
Colored coins opened the door for further research and development on digital assets that would later become the foundation for NFTs
When the Ethereum blockchain finished development in 2015, NFT projects began to be minted on its network. In 2017, now-famous (and expensive) NFTs like Cryptopunks and CryptoKitties were also created on Ethereum.
Between 2019 and 2021, the market capitalization of the NFT industry increased exponentially (see below). The market capitalization (total volume of assets * avg. value of asset's classification) represents the total value of assets present in a market.
In 2020, the three most profitable sectors for NFTs were metaverse, art, and gaming (in that order).
The turning point towards mainstream recognition was arguably the sale of digital artist Beeple's "Everyday – The First 5000 Days" as an NFT for a record-breaking USD$69 million at Christie's auction house in March 2021. This was monumental. Before this, the most Beeple had ever sold his artwork for was $100. This was also the first time in Christie's 255-year history that they offered a purely digital artwork for sale.
During the rest of 2021, NFT was one of the most searched words online and became a household name. Teenagers to boomers are inquiring about NFTs. High-profile celebrities and brands are increasingly involved in the space by purchasing, creating, or promoting NFTs. The lucrative potential of NFTs is driving awareness towards the industry.
The NFT industry is growing rapidly, as new marketplaces and projects are created every day. In 2021, NFT sales volume reached an estimated USD$25 billion across various blockchains and physical auction houses. As of January 2022, the world's largest and most popular NFT marketplace–OpenSea–is valued at a whopping USD$13.3 billion.
In addition to the lucrative potential, the utilitarian value of NFTs is further paving the path to widespread adoption. Through the blockchain technology powering NFTs, artists have newfound ownership and control over their work. Artists have a different medium to display and sell their art. NFTs have empowered artists in an unprecedented manner.
The initial hype is slowing down. According to the Gartner hype cycle (see below), we are currently at the point before standardization and institutionalization where the market is slowing down and quality platforms are emerging. This is where the opportunity for long-term success lies. More specifically, this is the perfect window of opportunity for Artify.
Artify, powered by FiO's blockchain technology, will enable the NFT market. It provides art galleries with the resources and services needed to start their own NFT gallery or marketplace platform.
How does Artify fit into the overall NFT landscape? What does Artify aim to do? What is its key value proposition? We will address these questions and more in a later section.
This case study will first introduce FiO, the company behind the blockchain technology powering Artify. Then, the research section will outline a competitor analysis, in addition to using an empathy map to specify the target customer(s). Lastly, the study will present the challenge, then propose Artify as the solution to solve these problems.
Company Overview
FiO is a blockchain automations company. Built for business efficiency, FiO provides no-code, easy-to-use templates and microservices that require no technical experience for customers to quickly adopt blockchain technology. The key is that FiO's cost-friendly solutions seamlessly integrate with existing legacy systems. Therefore, customers can focus on their business, not which blockchain solution to use.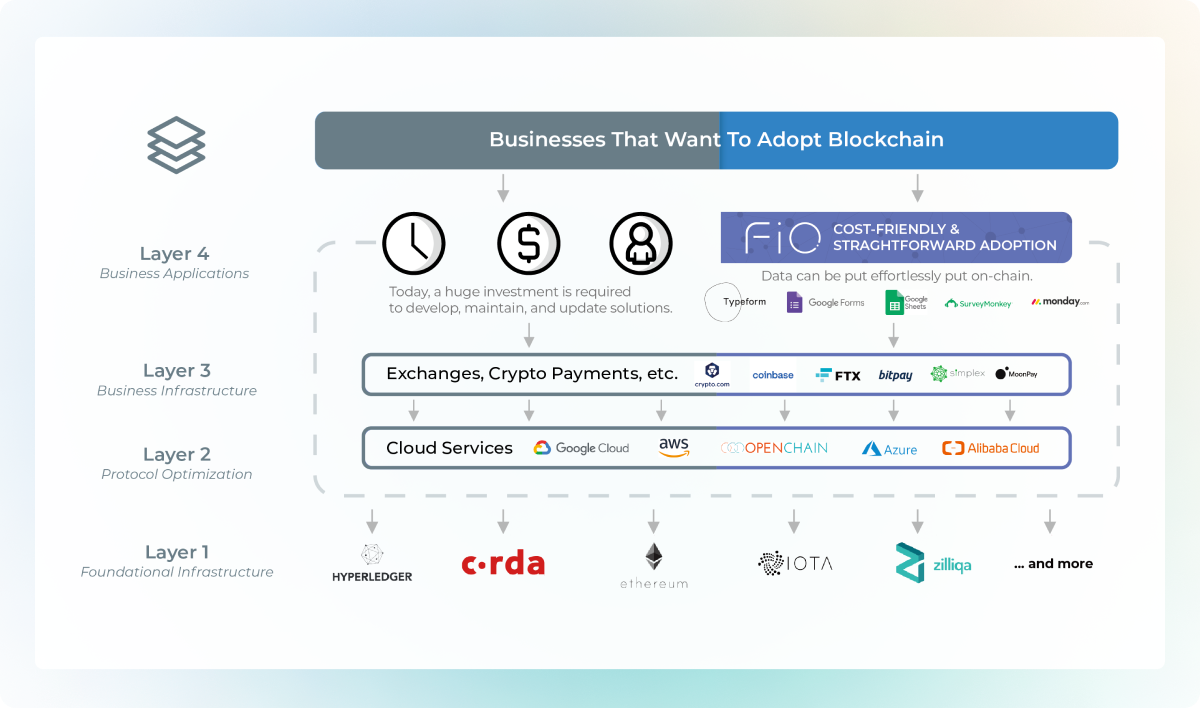 Client Testimonials
To read about how FiO's blockchain technology has helped its clients, here are a few testimonials from our clients in various industries:
"We are always looking to adopt new innovations to improve the quality of our CDB flowers. We decided to apply FiO's blockchain technology to AIoT, edge computing, and auto chatbot, so we can achieve in producing high quality and high value CBD products."

Kenric Brooks (Founder, Country Boy's Farm)
"Our teachers have saved a lot of administrative time using the Learning Curve app. With this user-friendly app, students can document all of their learning experiences. They're also the owner of their own authenticated and immutable long lasting data, which can bring many benefits for students down the road."

Austin Chang (Club Founder, Ching Shin High School Taiwan Vision Club)
"We use AIoT with FiO's blockchain technology to track and trace high value agriculture product growing data, so we can further improve and grow dependable quality produce"

National Taiwan University, Food Safety Center (台大食品安全中心)
Research
First, this section will outline a list of potential competitors:
Customer Profile
Using the empathy map canvas, this section will define Artify's target customers and create a detailed customer profile based on the findings. This will help us better understand the customer's pain points and the overall problem.
Artify's primary target customers are art galleries who want to enter the NFT space. One of their fundamental pain points is that they are not technologically savvy. Therefore, they do not understand blockchain technology well enough to approach the NFT market. They are curious about NFTs because they see and hear news about their lucrative potential. Ultimately, these art galleries want to utilize NFTs to generate new revenue streams.
Who are our customers?
Art galleries whose owner and employees have little to no knowledge about how to use or get involved in blockchain and NFTs.
Art galleries who have faced financial hardships due to the COVID pandemic.
What is their goal?
They want to discover non-traditional ways to sell, buy, collect artwork and explore new mediums like digital artwork.
They want to learn how to simply implement the technology, create and trade NFTs, open an NFT marketplace, and/or generate new revenue streams from NFT sales.
They are seeking new business opportunities online because of financial hardships suffered from the COVID pandemic. They want to adapt to a post-COVID world.
What do they see?
They see news in mainstream media about bitcoin and other cryptocurrencies and NFTs.
They read news about people trading NFTs of digital artwork for thousands or millions of dollars.
They see prestigious art galleries and auction houses like Sotheby's and Christie's getting involved in NFT sales.
They see the artists they work with struggling to make a living due to the COVID pandemic.
They see coworkers or friends buying and selling NFTs. They may also see the same coworkers and friends getting scammed.
They see less people visiting physical art galleries due to the pandemic.
What do they say?
They are talking about the latest trends in art.
They are discussing crypto, NFTs, and how to implement NFTs and blockchain into their business strategies.
What do they do?
They are trying to keep up with the latest trends in the art world.
If they are interested in blockchain and NFTs, they are educating themselves via news, internet, and other resources.
They are learning how to improve their financial status and art gallery.
They are brainstorming strategies on how to adapt to a COVID or post-COVID world.
What do they hear?
They listen to employees or coworkers discuss the future of art galleries or concern over their job security.
They listen to meetings with management about new business strategies, possibly about blockchain technology and how to enter the NFT market.
What do they think and feel?
Pains
They are worried art galleries will not be as popular as pre-COVID.
They are anxious about the financial struggles of the art gallery.
They do not understand blockchain or NFTs enough to implement them into their business strategy; therefore, they cannot yet participate in the NFT market.
They are not technologically savvy.
Gains
They want their art galleries to be relevant and adapt to a post-COVID world.
They want to learn and be involved in the latest trends in art and technology.
They want to learn about NFTs and how blockchain can help their business.
They want to support artists.
They want art viewers and collectors to become regular clients.
Challenge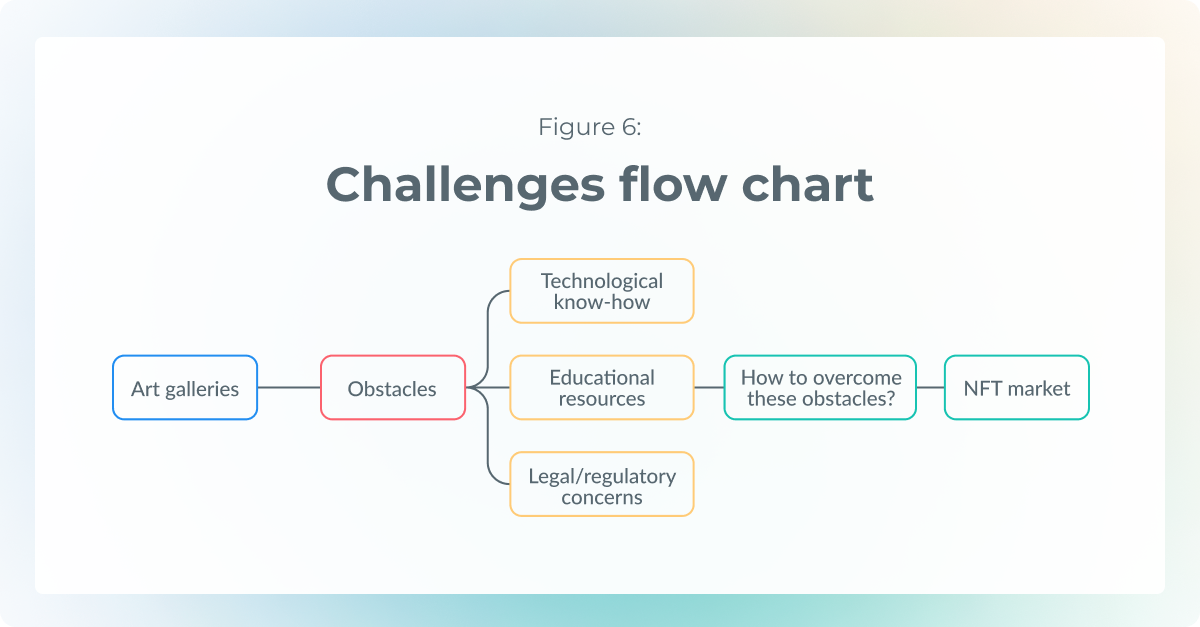 The NFT market is brimming with potentially lucrative opportunities. However, the barrier of entry to the market is high due to various factors, such as a lack of educational resources and technological know-how. Additionally, there are legal/regulatory concerns, such as requiring further clarification on how intellectual property rights, financial regulations, data security, and ESG issues affect NFTs. The high barrier of entry makes it difficult for interested people and businesses to get involved in NFTs.
The majority of NFT applications have been for artwork or digital media so far. Therefore, naturally art galleries are interested in getting involved in NFTs. The problem that many art galleries face is: they don't know where to start.
Traditional art galleries face a steep learning curve when it comes to the NFT market and blockchain technology. Most people working in art galleries are not familiar with the technology. For example, they may be interested in minting NFTs or starting their own NFT marketplace, but do not understand the process.
Solution
With FiO, clients will be able to achieve more efficiently. FiO's modules and API integration make it easy for businesses to utilize blockchain by streamlining processes. Clients do not need to have an extensive tech background or blockchain knowledge to access FiO's user-friendly blockchain platform. For example, FiO's NFT Creator allows users to easily mint NFTs by filling forms and paying with fiat.
FiO's blockchain technology will power Artify and enable the broader NFT market. Smart contracts enable automation of transactions, resulting in smooth financial transactions. FiO also provides multichain support, making Artify compatible with other blockchains such as Ethereum, Polygon, and more. Lastly, not only does FiO provide the technological infrastructure, but also educational resources: users can learn about NFTs or other blockchain-related topics on FiO's blog.
At its core, Artify is a NFT market creator. It will assist traditional art galleries to create not only NFT marketplaces, but also NFTs. In addition, Artify will facilitate a network by connecting both galleries and artists together. Furthermore, Artify will help struggling art galleries to optimize liquidity by: 1) covering the entire market with its cross-platform manager and 2) increasing circulation of physical art by leveraging exposure to digital art.
Artify brings significant value for its target customers:

First-mover advantage: Currently, there is no other platform or service like Artify in the market. Although different aspects of Artify have been done before, a platform/service that combines all aspects has yet to be created. For example, OpenSea allows users to mint NFTs, but it doesn't offer fiat payment options.
Fiat compatibility: Artify supports both fiat and crypto transactions. Customers can use fiat to buy and sell assets. They do not have to know how to trade crypto or exclusively set up a crypto wallet to use Artify.
Easy-to-use: Using FiO's blockchain technology, Artify makes working with NFTs easier than ever before. It enables traditional art galleries to participate in the digital artwork era.
Empowerment: Artify will empower secondary sales for art galleries. Art galleries can open their own NFT marketplace, in addition to creating and selling NFTs to generate new revenue streams.
Cost-efficiency: Businesses will be able to implement FiO applications and use Artify with affordable pay-as-you-go plans for low costs.
Security: Artify mitigates the inherent risks related to crypto transactions. Artify will allow users to create a secure wallet for all crypto transactions. The wallet infrastructure will be secured by renowned cryptocurrency security company, Cybavo.
Interoperability: Artify has no limitations. Powered by FiO, its cross-platform technology enables interoperability with other NFT platforms. Users will be able to manage NFTs on multiple marketplaces from one place. Instead of working against other platforms, Artify works with them.
For more information, please contact us here.